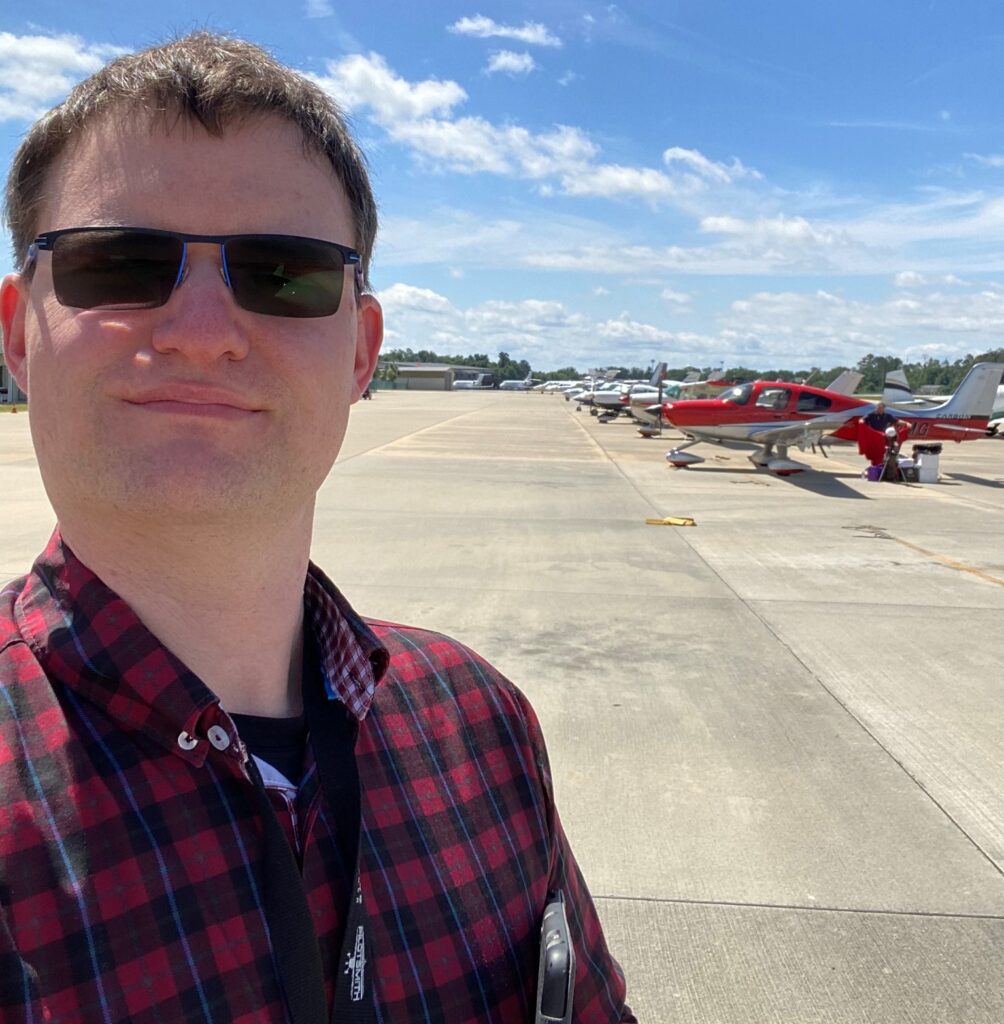 Charlie S; President
Instructor Bio:
I have owned several Cessna 172's, a Cardinal RG, and a Piper Seneca III and my favorite airplane has to be the Gen 6 Cirrus SR22T.  I have a passion for aviation safety and am a volunteer FAA Safety Representative.
Hobbies:
In my free time I love fishing with my wife and son.
Ratings:
Com-ASEL, Com-AMEL, CFI, CFII, AGI, Gold Seal, Platinum CSIP
Trent V; Flight School Manager
Instructor Bio:
I was drawn toward aviation as a child, often stopping what I was doing to watch an aircraft fly overhead. This aviation intrigue drew me towards the thought of becoming an Airline Pilot, which is pretty common as an initial goal. However, along the way my career has morphed into a Flight School leadership role. This role is advantageous because I get to assist in helping others achieve their goals. It may just be the teacher in me, but there is nothing better than seeing a previous student or Instructor piloting your vacation flight! 
The aviation industry is a fraternity. People in this industry love to see others achieve their wildest dreams. I guess we are all dreamers at heart. Aviation is simple, yet complex at the same time. It is peaceful, yet chaotic. There is nothing like it. You just have to immerse yourself fully to experience it!
Hobbies:
One of the great aspects about being back in Green Bay is family. I get to spend time with them on a consistent basis and watch my nephews grow up. My wife and I have even added a new member in 2022, which is an amazing gift. When I am not spending time with family my hobbies consist of boating, fishing, snowmobiling, and watching or playing sports.
Ratings:
Commercial SE/ME – CFI/CFII; Thinking about adding my MEI.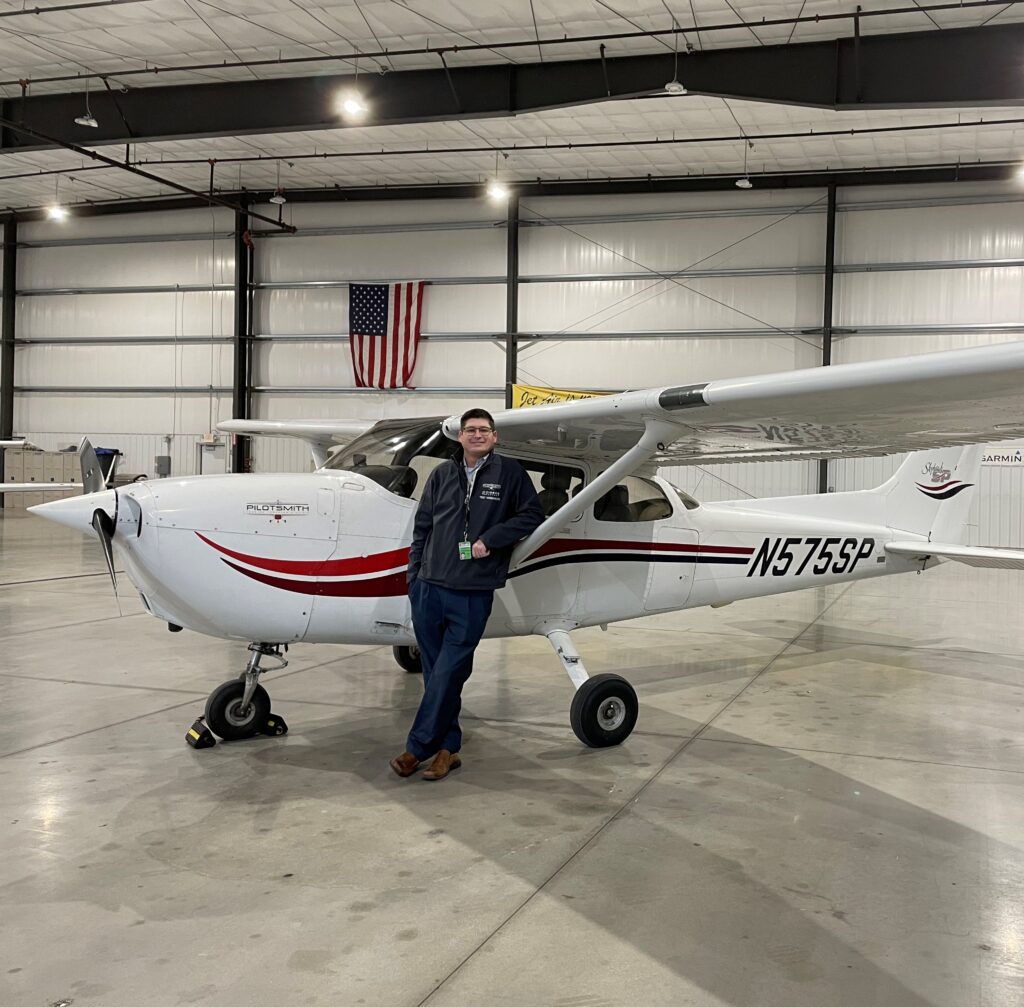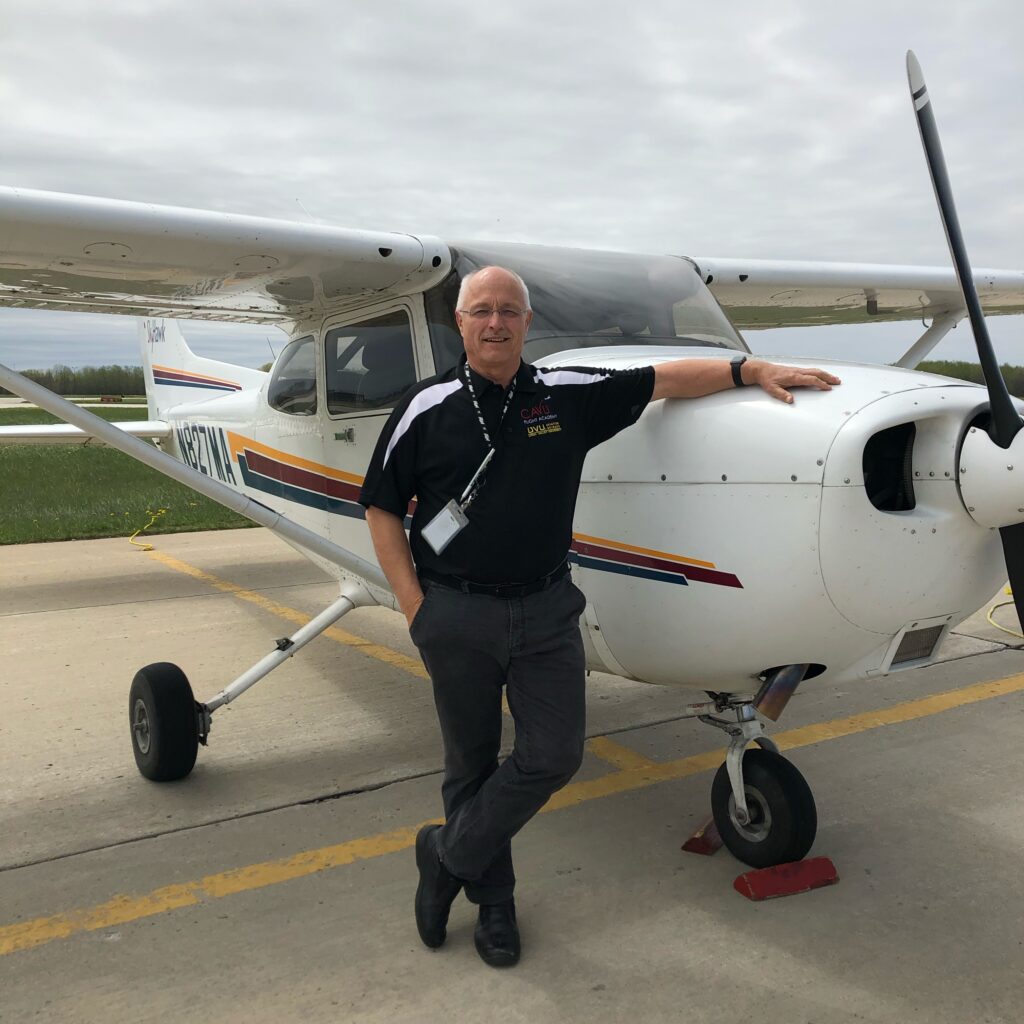 Glenn S; Chief 141
Instructor Bio:
I am currently the chief instructor for CAVU's Green Bay location. I got hooked on aviation when I was in my 20's and have been flying ever since. A couple of random facts about me include that I can speak the German language and I enjoy raising my numerous pets.
Hobbies:
Other than flying, I enjoy getting outdoors to bike and play racquetball. My psychological getaway in life is making my own bread and tending to my own garden at home. I also enjoy traveling in my free time and have recently been to Thailand.
Ratings: 
I hold a Gold Seal CFI, CFII, MEI, ATP, and AGI.
Ingrid P; Assistant Chief 141
Instructor Bio:
My passion for aviation started when I was a little girl and would spend hours listening to my grandfather's stories when he was at the Air Force. As I became older my passion grew further as my Dad would take me to the airport to view planes. I have been flying for over 4 years and the joy for flying never gets old. I definitely love how peaceful and exciting flying a small plane is.
Hobbies:
Besides flying my main hobby is cooking, I love trying new recipes and having friends and family over to try them!
Ratings:
I am currently a Certified Flight Instructor at Pilotsmith and CAVU. I hold a Commercial Pilot with Instrument Rating, CFI and CFII license.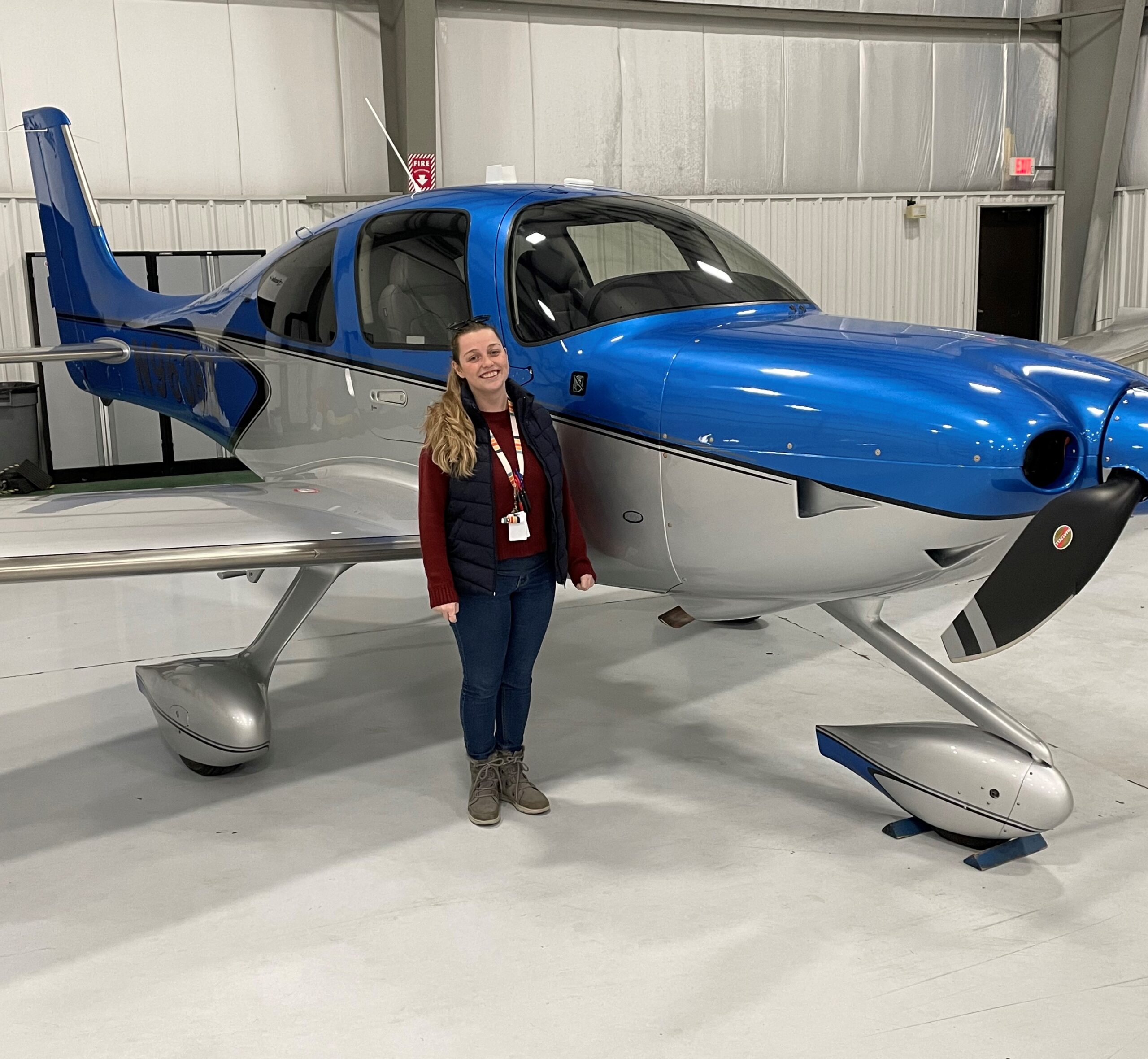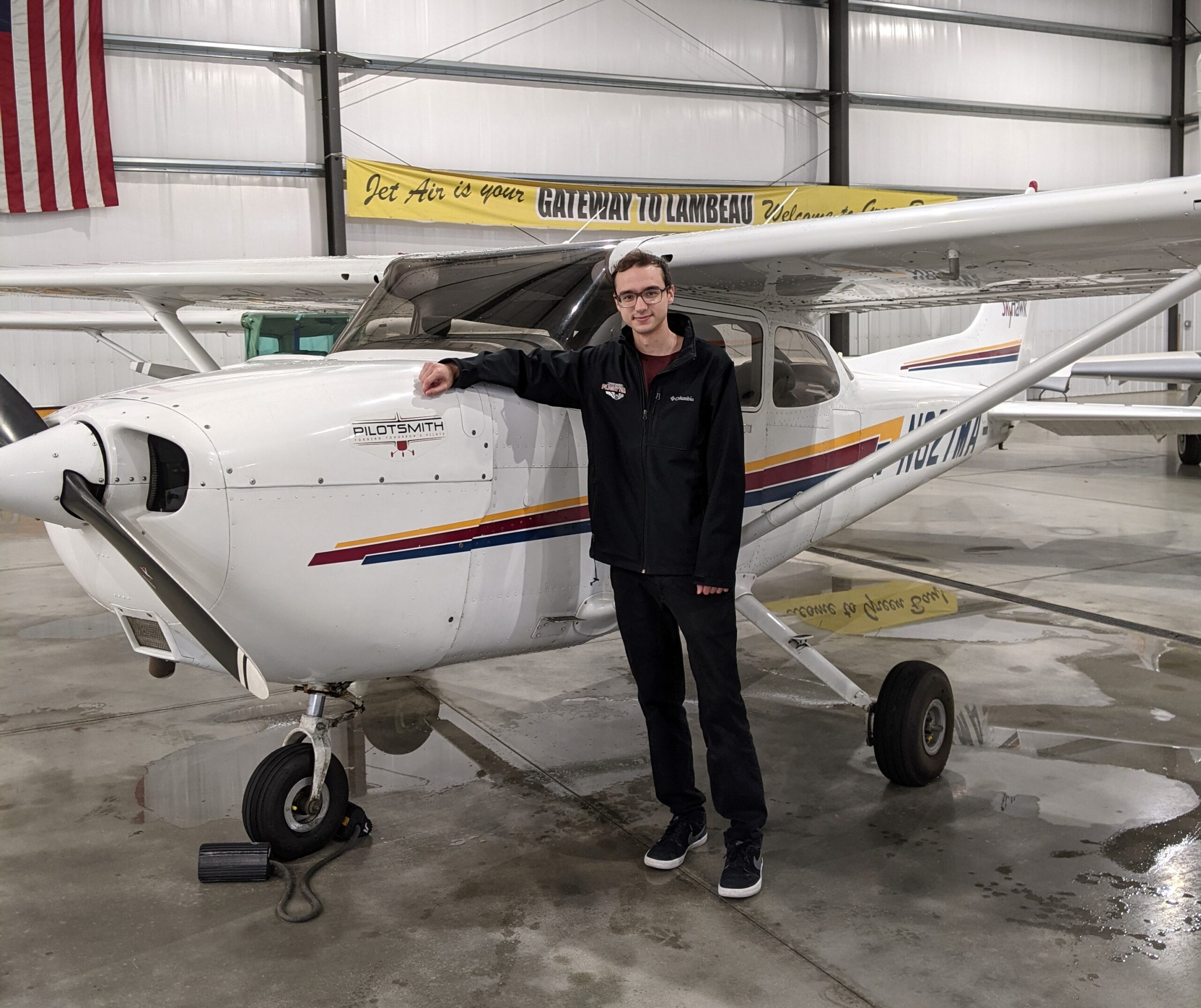 Gage B.
Instructor Bio:
I grew up in the suburbs of Chicago. I attended Lewis University and joined their Flight Team where I competed against other pilots from around the country. Being around many inspiring pilots and aviators drove me to become the best pilot I could be. Which led me to become a flight instructor and create valiant pilots to make the skys a safer place.
Hobbies:
Outside of flying, I enjoy attending concerts, going to arcades, and cooking delicious homemade meals.
Ratings:
I am currently a Certified Flight Instructor at Pilotsmith and CAVU at the Green Bay location. I hold a Commercial Pilot with Instrument Rating, CFI, and CFII license.
Nate M.
Instructor Bio:
I am currently a flight instructor for CAVU in both Appleton and Green Bay. I live in Kaukauna conveniently located directly between both airports. I am currently a student at Utah Valley University working toward my Bachelor Degree in Aviation. I have been flying for about 5 years and am currently working toward my CFI-I certificate.
Hobbies:
Other than flying, I love anything that gets me outdoors. In winter I enjoy downhill skiing at the many local skiing hills. In summer I like to spend my time off at my parent's cottage in Nekoosa, WI where boating and jet skiing fills most of my day.
Ratings:
I currently hold a Commercial Pilot's License with Instrument Rating and CFI certificate.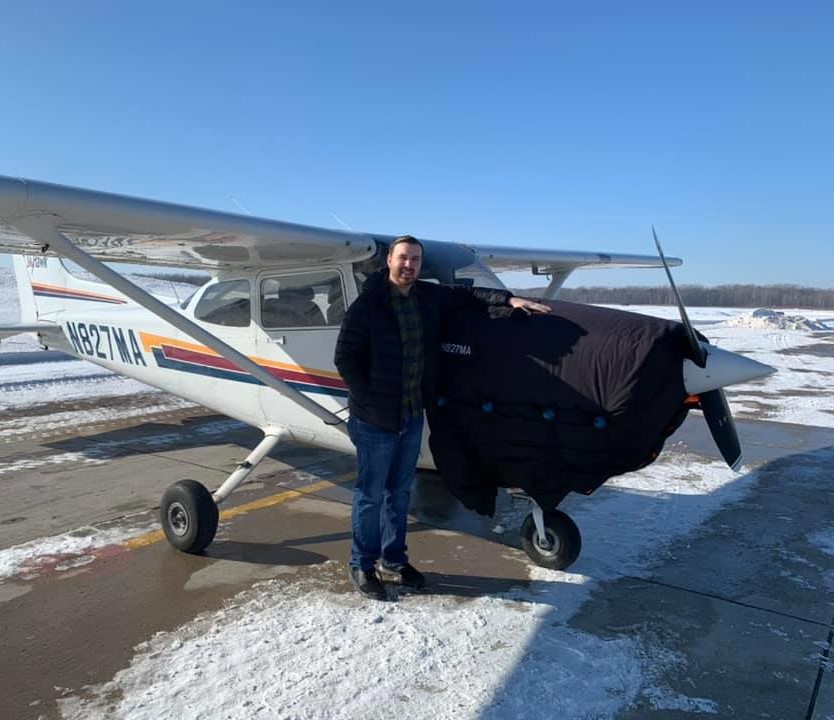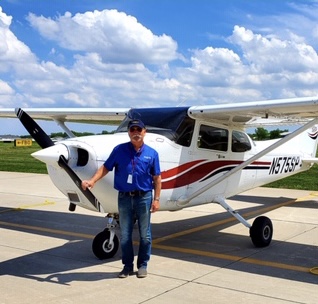 John D.
Instructor Bio:
I am a Vietnam Veteran and was stationed as an engineer on an aircraft carrier in the Tonkin Gulf. I earned my private license in 1979 and after acquiring my commercial rating flew briefly as a corporate pilot. I have held a CFI rating for more than 25 years. Most of my career has been working as Executive Director of two  nonprofit youth organizations. One was with adjudicated youth and one in a leadership focused organization. During that time I was involved with the Young Eagles program. Flying and working with youth have always been a passion of mine, however, I enjoy flight instructing all ages. Instructing is a wonderful privilege and I am truly living that dream.
Hobbies:
My other interest is boating. I hold a current Coast Guard Merchant Mariner captain license for 100 ton vessels, unlimited passengers. My two grown daughters, Jessica and Emily,  are off on their life adventures with their mates.  I am retired and live five minutes from the airport with my beautiful wife Cindy and two cats.
Ratings:
Com-ASEL, Com-AMEL, CFI, AGI, Gold Seal
Dennis K.
Instructor Bio: I began my flying career at Parks College of St. Louis University years back. After a time away from aviation, circumstances changed and I have been flying at every opportunity since. I learned a while back that the more you learn about one topic, the more it applies to the next – and that there is incredible synergy at the pinnacle. As pilots, we always strive to reach that pinnacle. It's energizing to be a part of the pilot community, where we all look for ways to constantly improve what we do and help each other to safely and effectively reach our goals. I currently work from the KGRB locations and would love to help you reach your aviation goals!
Hobbies: I enjoy flying airplanes, community involvement / volunteering, playing guitar, sailing and boating, amateur radio, traveling and outdoor sports, to name just a few. I am an active member of the US Coast Guard Auxiliary and also the US Air Force Auxiliary,  the Civil Air Patrol.
Ratings: CFI and AGI; Commercial, Instrument, High Performance, Complex,  Remote / UAS.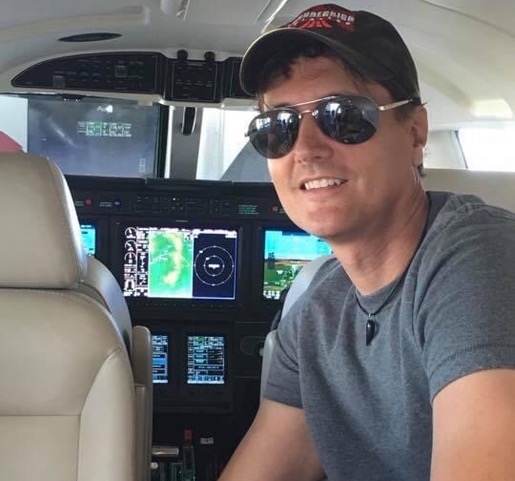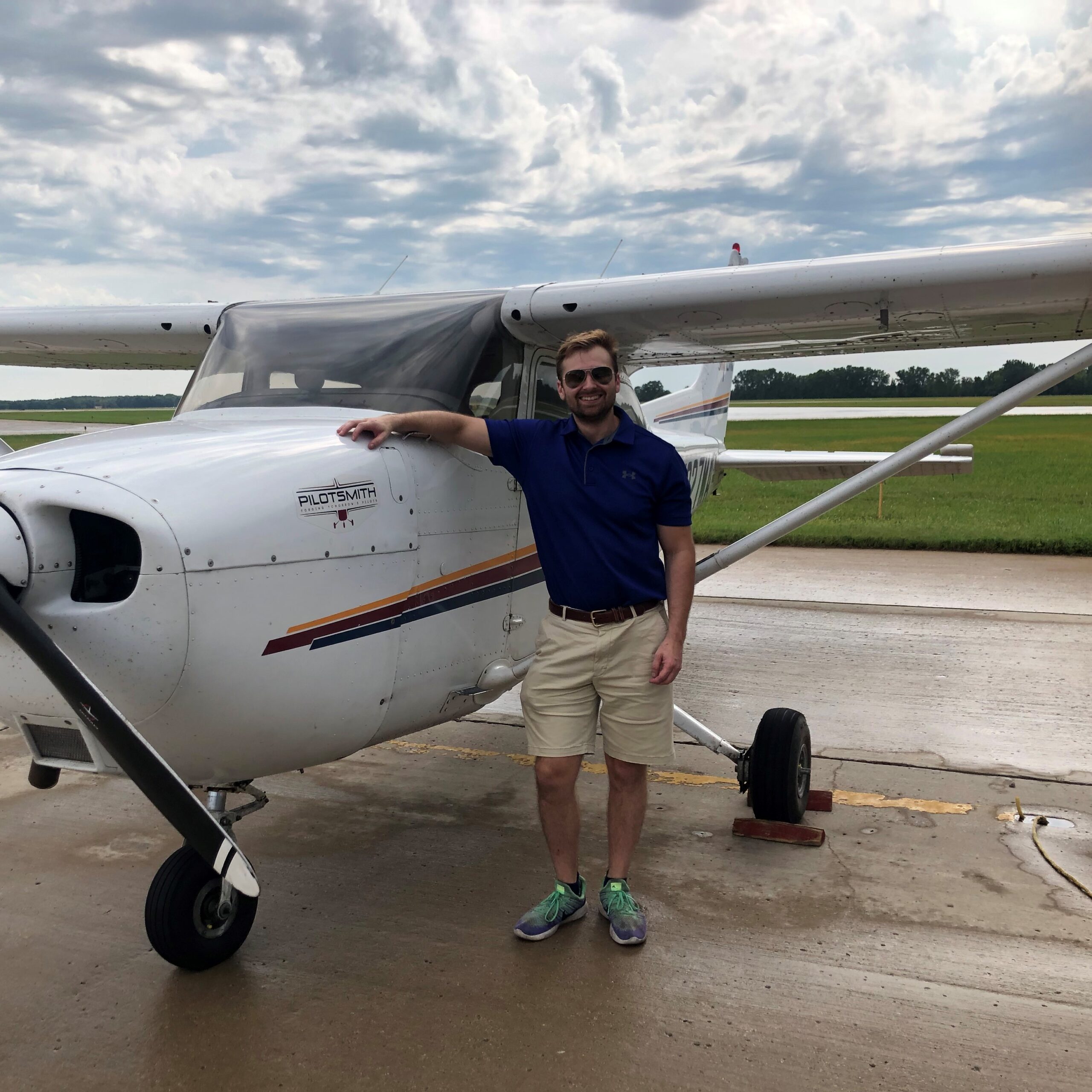 Joe C.
Instructor Bio:
Growing up in the Fox Valley my parents would drive us down to EAA Airventure in Oshkosh every summer. As I would watch the airshows I just thought how cool it would be to be one of those pilots in those aircrafts, and that's where my love for flying began. Things began to ramp up when I booked my discovery flight at Appleton Airport, once those wheels left the ground there was no turning back for me. I began my journey from private pilot through flight instructor hoping to help others discover a love for aviation.
Hobbies:
Besides flying, I enjoy kayaking during the summer and snowboarding in the winter. I will also never say no to a game night with my friends and family.
Ratings:
CFI and CFII and am currently a flight instructor in Green Bay.
Riley J.

Instructor Bio:
I inherited  my love of flying from my "Gramps". Gramps was a career pilot in the U.S. Army for 26 years and flew for Clemson University's Athletic Department for 17 years. Growing up pretending to fly and spending time with my grandpa sparked my love for aviation. I am thrilled to be a part of Pilotsmith, and I am eager to share my passion for flying with new students.
Hobbies:
I love flying and would spend all day in the air if I could. Besides that I love food, technology , and just driving with nowhere to go.
Rating:
I have my CFI/CFII, Commercial pilots license, Instrument rating, and complex endorsement.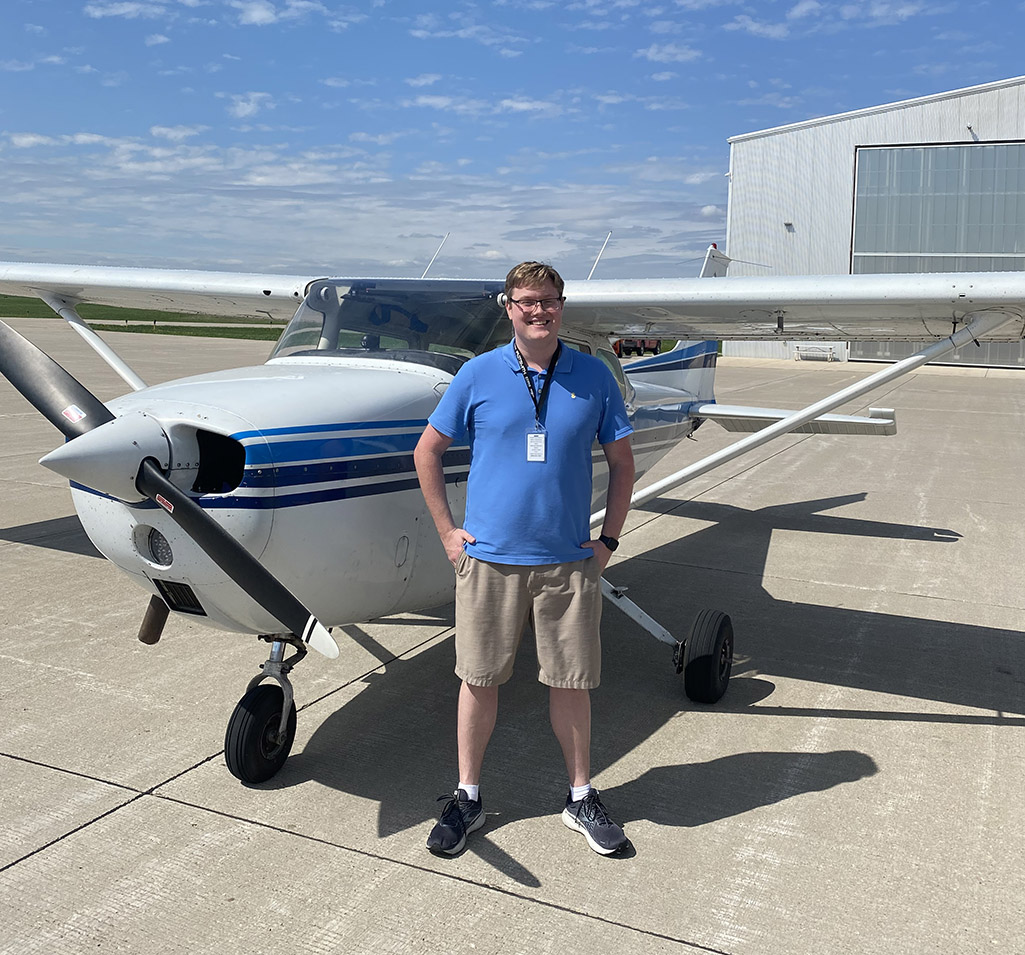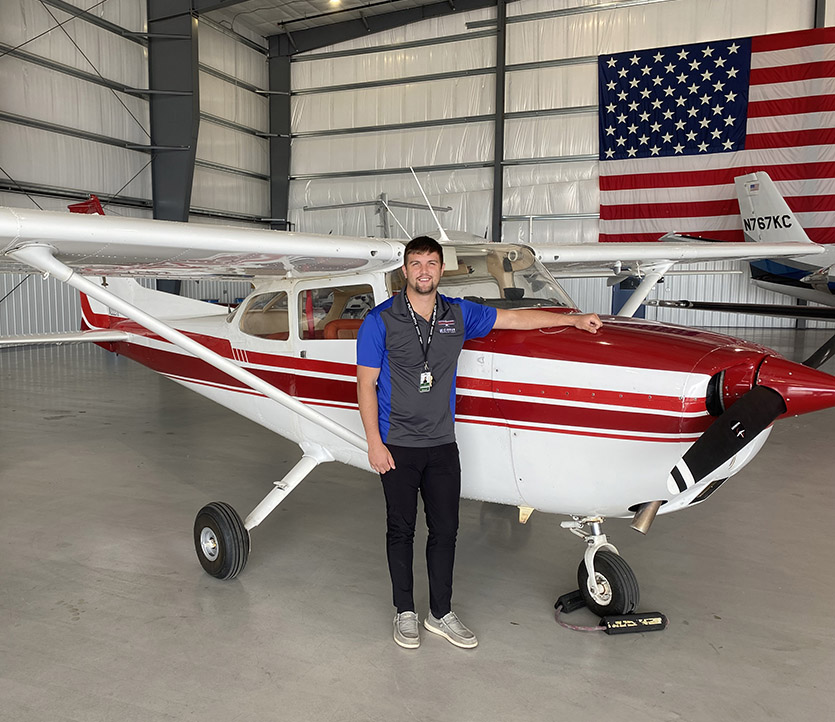 Dylan M.

Instructor Bio:
I fell in love with aviation as a young kid when I was in the mall at a kids ride. From there all I did was research everything about aviation until I was about 16 years old. Then when that age hit it seemed as if the goal of being a commercial pilot was unachievable and was fading until I was able to find a school that could take you from zero experience to commercial pilot, so I decided to take the plunge. I ended up completing all my training at an aviation college out of
Oshkosh, WI. My goal is to get many more people into this career that I once thought was an
unachievable goal.
Hobbies:
Outside of flying I love fishing, golfing, wakeboarding, snowboarding, playing video games, and
most importantly spending time with family and friends.
Rating:
I currently have my Commercial single and multi engine land with instrument rating and my
CFI/CFII/MEI
Trisha L.

Instructor Bio:
I begin my flight training in poplar Grove IL. Where I begin flying in a Piper cub. If I could own my own aircraft I would own a Piper cub. I finished my training at FVTC and I am currently finishing my bachelor's at UWO for aviation management.
Hobbies:
In my free time my favorite this to do is read, play video games and spend time with my family. Fishing with my dad, having a cook out with my dad and stepmom. Playing board games, watching movies or playing video games with my mom, little sister, and fiance. I love to spend time with my five nephews and older sister. I also love to spoil my two cat Sparta and Nibbler.
Rating:
Commercial single and multi-engine, instrument, CFI, CFII, MEI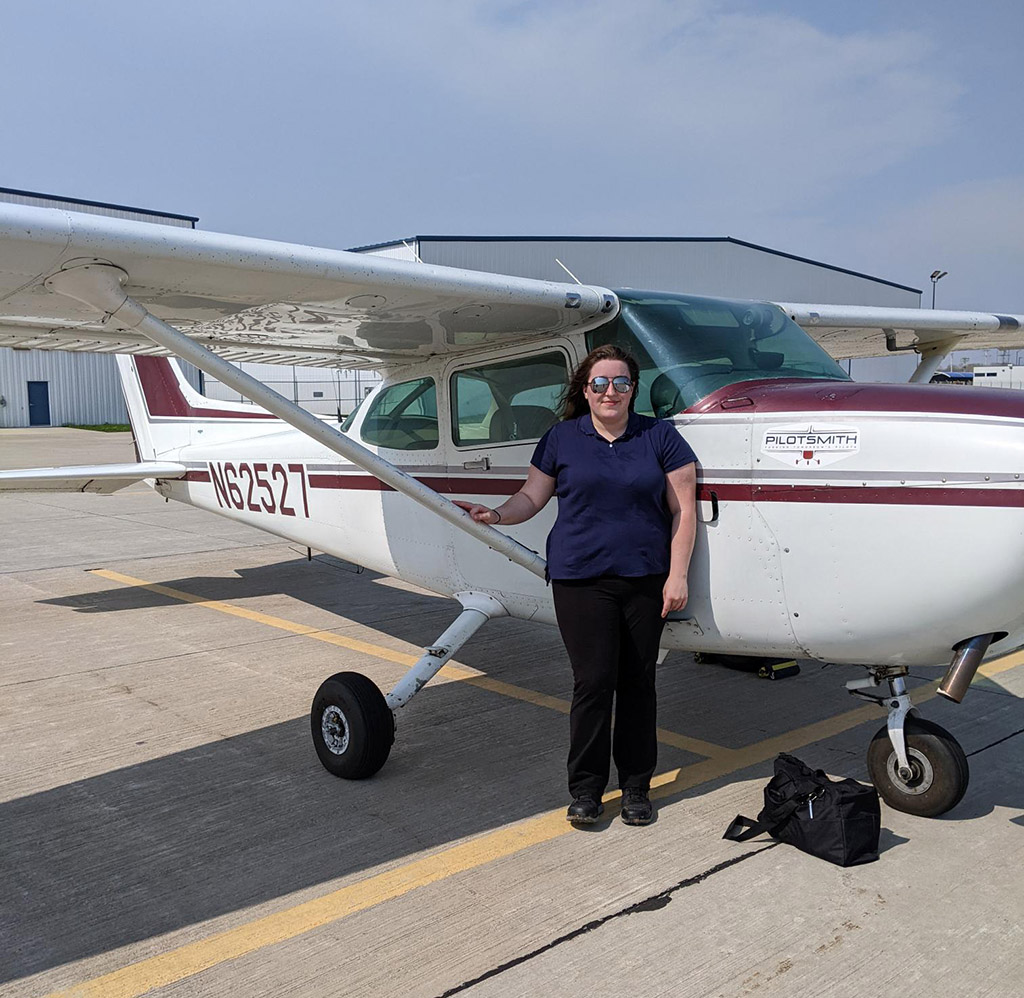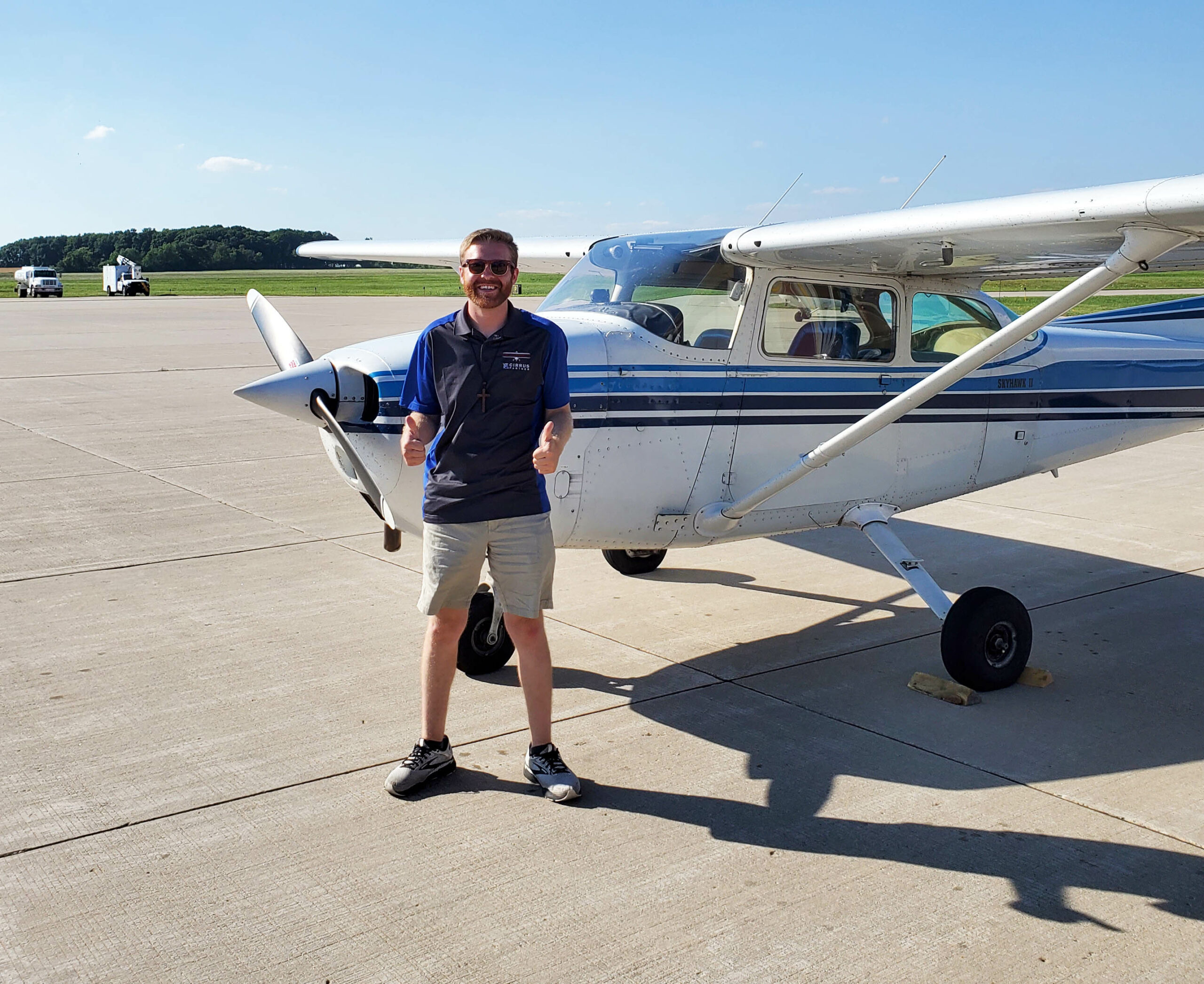 Luke B.

Instructor Bio:
On Christmas day about 6 years ago, my aunt, a flight attendant for a major airline, sent me a snapchat of her climbing a mountain in Maui.
I thought, wow, that's really cool, I want that job!
After trying my luck at becoming a flight attendant and having no success, I decided that learning to fly would not only be a better paying job, but would also be way cooler!
My journey began shortly thereafter, and I attended a 141 school in Rochester, MN, where I'm originally from. I ended up finishing my training at another school in MN, and began instructing with a flying club, just to see if I was any good at instructing! That was a year ago and since then I have helped a handful of pilots with their flying goals, and am excited to bring my skills and knowledge to Pilotsmith.
Hobbies:
Spending time with friends and family, relaxing with a book, trying new recipes, or being outside are just to name a few! Oh, and watching airplanes fly, of course!

Rating:
I have my Commercial Pilots license, with CFI and CFII and High Performance endorsement."
Sebastián C.
Instructor Bio:
Sebastian joined Pilot Smith in December 2022 as a flight instructor (CFI, CFII, MEI). He completed his private pilot license in Guatemala where he was born and raised. Along with flying he enjoys traveling the world, exploring volcanoes, and sharing his passions with others. Over the course of his career as an aviator he has completed training in a variety of different general aviation aircraft; notably the Extra 300 and the 
SR22
. Sebastian has also conducted operations in the part 91 environment as a charter pilot in the King Air 90. He organized a forest reseeding where he constructed a way for seeds to be dropped out of airplanes in remote areas.
Hobbies:
Sebastian enjoys being outdoors, exploring new cultures, and getting out of his comfort zone.
Ratings:
CFI/CFII/MEII – "I look forward to being your CFI and can't wait to promote your growth as an aviator!"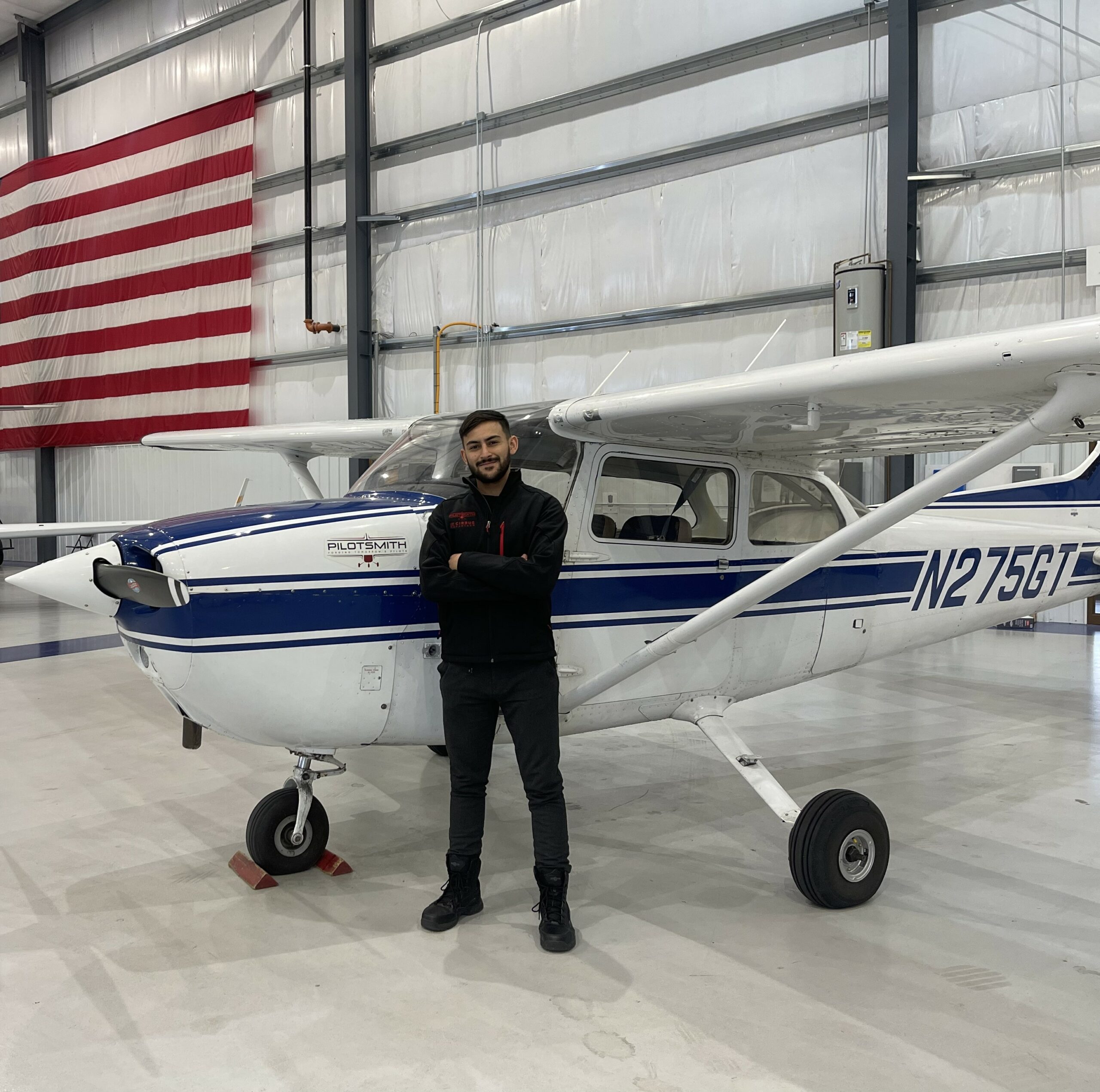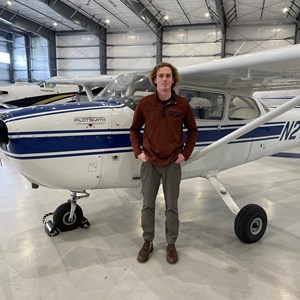 Gavin W.
Instructor Bio:
As a kid trying to figure out what I wanted to do in life, aviation had never even crossed my mind. Then a friend told me about the flight program he was going through and I went for it. After my first flight I knew this is what I wanted to do. My goal is to make that journey possible for other people and show them the amazing career and life aviation can bring.
Hobbies:
When I'm not studying aviation, I enjoy doing as much outside as I can. I spend a lot of time hiking and backpack camping, kayaking, and snowshoeing. I also love a good dose of adrenaline from snowboarding, or riding my motorcycle whenever I can.
Ratings:
Commercial single-engine and multi-engine land, instrument, CFI, CFII, MEI
Sherwood W.
Instructor Bio:
Sherwood "Woody" Williams, PhD has been a flight instructor since 1994, having started flying on his 50th birthday, and loves every minute of it. He is a retired  teacher and school district administrator for 30 plus years helping students and staff learn and grow. He created CAVU Flight Academy in 1998. Overall, he really enjoys being around people and loves flight instruction.
Hobbies:
Outside of flying, he enjoyed sports and lettered in college football at UW-Platteville. Dr. Woody is a graduate of the University of Wisconsin – Madison. He also conducted numerous acoustical studies to enhance the listening and learning environment for children in Wisconsin and the Mid-West schools. Woody is married and they have six daughters, 22 grandchildren, 11 great grandchildren, and one great great grandchild, which makes holidays a big event around the house.
Ratings:
Dr. Woody holds an ATP, CFII, MEI, AGI, and a Gold Seal.